Guide to Dental Technology
Introduction
Since the early days of dentistry, the ways in which care is provided have changed enormously. Behind much of that change has been technology that grew and evolved every time we learned something new about oral health. It wasn't just movements from mercury to polymers, it was advances in diagnostics, specialty services like orthodontics, and now, practice management software that automates your recall reminds, and connects you automatically with patients, while utilizing the power of cloud computing.
The core of running a practice hasn't really changed all that much – you attract patients that come to have their cavities filled, and their concerns addressed. Practice management software has provided new ways to handle patients, and how you keep them informed. People have gone from answering their phone religiously to only responding to text. Patient records were once a collection of loose papers and scribbled notes, now they're available any time, anywhere with the cloud. For practices of any size, adopting these technological developments can offer massive advantages.
We're going to use this guide to show you the power of cutting edge dental software, and just how much easier it can make things for you and your practice.
Interested in learning how the mythical Cloud can ease the workload in your dental practice? 
In our free ebook, we dive deep into the topic, and explain why making the switch will change your life.
Download our ebook, Why Cloud Technology Belongs in Your Dental Practice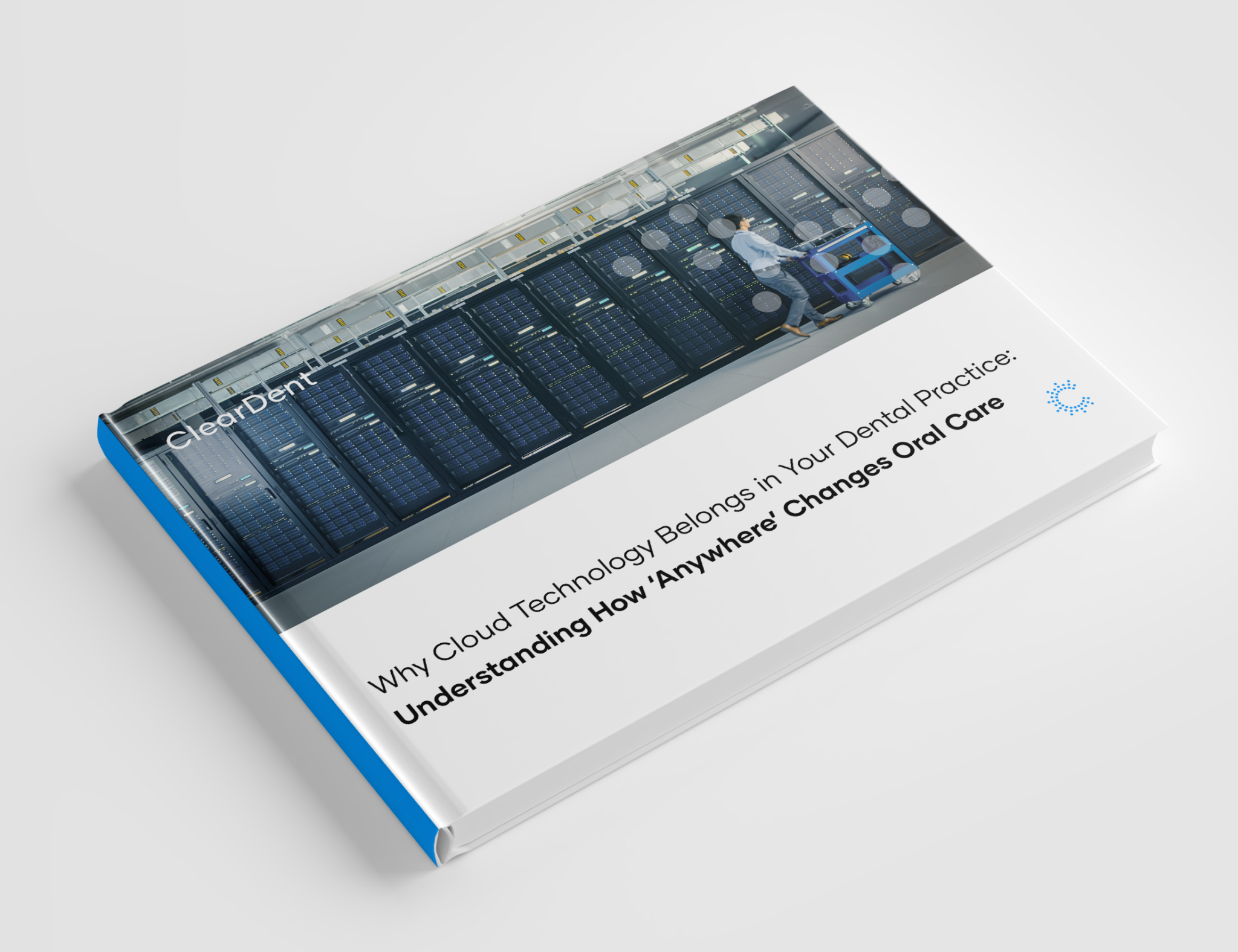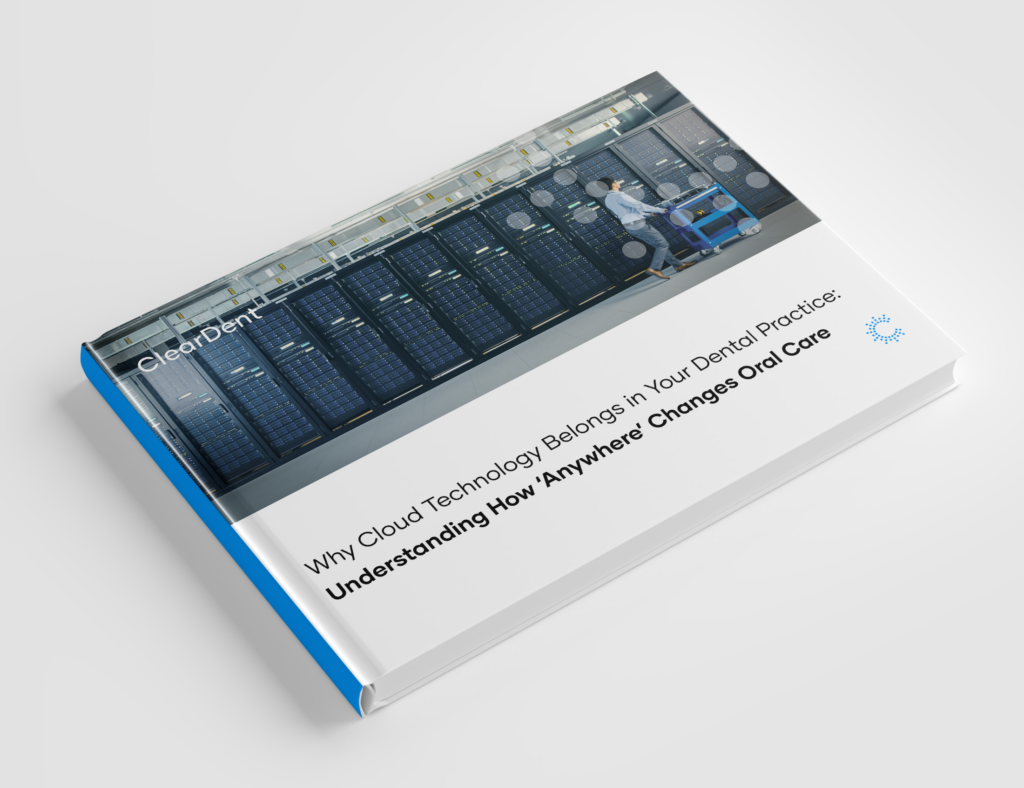 How the Cloud Changes Work
You've probably heard about the cloud from an excited tech CEO promising their app will disrupt the world. It might be more obvious as we log in to watch Netflix, or check our email on any device that's handy, but there are still plenty of opportunities for dental practices large and small to get in on the benefits.
It's a topic we've covered before, because it's a topic we know to be the next great leap forward for how office managers and dentists manage their practices. Providing the option to work while outside of the workspace. For many dental offices in North America, it is a radical idea.
Consider the practicality of simple, universal access to the files, revenue, inventory, and lifeblood of your practice.
Patient history is everything. Its x-rays, its anecdotes, its family histories that offer insight into potential outcomes. While paper records and file folders have a long and storied tradition, digital records offer one reliable source of truth, where two or ten note takers can collaborate to build a single, comprehensive picture of your patient. A typical patient profile stored within an on-premise server is seamlessly available to front office staff and care providers. A profile stored in the cloud is available simultaneously to front office, specialists that may be out of office, and even second or third locations for a single practice.
Now imagine giving them access to their files themselves.
By offering a cloud login, patients can update their own profile as they see fit. Their address after a move, allergies or concerns after a visit to their GP, or simply their own contact info when they replace their phones. By keeping patient record in the cloud, your staff is no longer handcuffed to the office, and your patients can confirm your info about them is accurate without a clipboard and a waiting room.
Single Dental Office Or Multiple Locations?
Cloud technology provides countless benefits for dental offices, regardless of their size or scale. We've got you covered, but no matter.
Tell me about Cloud for Multiple Locations
Safety and Security that Goes Above and Beyond
Health care providers carry an extra responsibility above all businesses to maintain patient confidentiality. As a care provider or a business owner, you need absolute trust that the sensitive information you accumulate is secure at all times, regardless of where or how it is located.
Just as you'd keep any confidential patient or business information under strict lock and key, your practice's online service or on-premise server needs even greater security. You and your staff deserve the peace of mind that comes with those measures.
The first step is getting familiar with a little trick called multi-factor authentication. If you're utilizing cloud, this is the most important security measure available. The most common version of this is 2-factor authentication, tethered to a smartphone. When considering the security of your physical office, you trust a select few individuals with keys to open the doors or access to important tools and supplies. The same principal works with the smartphones of your trusted staff. Reliable cloud services will require authentication from a device, regardless of how your patient or professional records are accessed.
With rigorous administrative provisioning, you can pick and choose the level of access. One person will always need the golden key that creates a new login for a new employee, or edits pivotal patient information, but not everyone needs access to the patient records or revenue history outside of the office.
One other often-cited concern is the nature of digital backups. Everyone has experienced a corrupted file or accidentally deleted something needed later down the line. Cloud technology means continuous backups that can be restored within minutes, regardless of the issue you experience.
Being able to require the credentials, a password, and physical smartphone, to make even a slight adjustment to your schedule guarantees that your records, and your patient's records are more secure than a simple key trusted to those opening the front door each morning. Measures like these go above and beyond compliance with medical regulations, and elevate the security of your practice, reassuring staff and patients alike, as they embrace this new technology that makes their lives ever so easy.
Learn More About Dental Technology
Is it time for your practice to take a closer look at itself or its numbers? We have a few articles that other practices have found helpful: